The Daily Muse
Thoughts from an Austin Garden -- June 2009
Last update - June 29
The Blue Mosque, Istanbul. Images from my recent journey to Turkey begin on June 17 below!
June 2 - morning
Announcing Where Wonder Was Born
Drawing from the garden of memory...
Do you recall a moment from your childhood when the world opened itself to you? Where you felt alive with wonder and maybe even sensed that first spark of what you would later call spiritual awareness? For many people of my generation, those first moments of genuine wonder often took place in hidden corners of our parent's or grandparent's gardens, or in the woods near our homes... some of us remember exploring the banks of streams that were teeming with tadpoles and dragonflies, or family trips to the ocean where the sound of the waves and the vast stretch of the sky put us in touch with something we knew was profound, even if we could not find the words to explain why. Often, those moments stay alive within us throughout our lives - we remember them and recognize in these treasured memories who we truly are - even as adults were all children of "mother nature."
Thanks to the pioneering work of Richard Louv, Author of Last Child in the Woods, we now also know about the tragedy that is unfolding around us as we witness the repercussions of depriving our own children of those same kinds of experiences that were so meaningful to us. In an effort to help people understand the depth of that loss, and to reawaken our own sense of reverence and wonder, I am embarking on a project called "Where Wonder Was Born" and I'd like to invite your participation. I am asking people to share their own stories of childhood encounters with nature in the form of 500 -1,500 word long stories that will be posted on the web and then included in a book to be released in the spring of 2011.
To learn how to submit your story visit Where Wonder Was Born
June 17 - morning
The Blue Mosque - Istanbul, Turkey
I have just returned from a completely transformative trip to Turkey sponsored by one of AAIM's partner organizations, The Institute for Interfaith Dialog, a Turkish Muslim organization inspired by the teachings of Fethullah Gulen. This was not really a trip, it was a journey and a pilgrimage... words cannot express the feelings and thoughts I am now carrying in my heart. The small group I travelled with was treated with such kindness, patience, and hospitality - I wish that every American could experience the depth of Turkish and culture and the way that our hosts really live their faith. I will have much more to add in the coming days, but here are a few images that I could not resist sharing right away...
The Suleymaniye Mosque in Istanbul, sunrise.
Istanbul - the new and the old. On the Asian side of the city.
The glorious intereior of the Hagia Sophia - a true place of pilgrimage for me. I have wanted to see this building for almost forty years. It was the great church of the Byzantine Empire (aka the Eastern Roman Empire,) and was converted to a Mosque when Constantinople fell to the Turks in 1453. It was the world's largest and most impressive building for over eleven centuries. Today it is a museum. One of the great mosaics of the church can be seen at the top of this image.
Another mosaic from Hagia Sophia.
The Hagia Sophia and Blue Mosque seen from one of the bridges connecting the European and Asian sides of Istanbul. (The Blue Mosque is on the left.)
A little wider view showing some of the boat traffic in the Bosphorus and the Sea of Marmara in the distance.
My favorite moments from Turkey involve the Turkish people - not the wonderful sights.
Here a playful group of kids that we encountered wave goodbye as they make their way across a parking lot.
Our group and a Turkish family that hosted us for one of several wonderful meals and discussions held in people's homes.
June 18 - evening
Inside the Blue Mosque.
A few more images from my amazing trip to Turkey...
The Suleymaniye Mosque.
A Community of the Spirit - Rumi
There is a community of the spirit.
Join it, and feel the delight
of walking in the noisy street
and being the noise.
Drink all your passion,
and be a disgrace.
Close both eyes
to see with the other eye.
Open your hands,
if you want to be held.
Sit down in the circle.
Quit acting like a wolf, and feel
the shepherd's love filling you.
At night, your beloved wanders.
Don't accept consolations.
Close your mouth against food.
Taste the lover's mouth in yours.
You moan, "She left me." "He left me."
Twenty more will come.
Be empty of worrying.
Think of who created thought!
Why do you stay in prison
when the door is so wide open?
Move outside the tangle of fear-thinking.
Live in silence.
Flow down and down in always
widening rings of being.
Widening rings of being... the bowl of the sky... dome in the Topkapi Palace.
It's the old rule that drunks have to argue
and get into fights.
The lover is just as bad. He falls into a hole.
But down in that hole he finds something shining,
worth more than any amount of money or power.
Last night the moon came dropping its clothes in the street.
I took it as a sign to start singing,
falling up into the bowl of sky.
The bowl breaks. Everywhere is falling everywhere.
Nothing else to do.
Here's the new rule: break the wineglass,
and fall toward the glassblower's breath.
Blue moon... Blue Mosque.
Detail Topkapi Palace.
Byzantine / Roman relics on the grounds of the Hagia Sophia.
Meow.
Nap time.
Hagia Sophia exterior.
Mosaic - Hagia Sophia.
Mosaic - Hagia Sophia.
Hagia Sophia from the my hotel room - day 1 in Istanbul.
Evening light on the Bosphorus (from the land.)
Evening light on the Bosphorus (from the sea.)
The best part of Turkey.
Roses everywhere!
June 19 - morning
Late Ottoman period fountain, Istanbul.
It is very early in the morning and I am still struggling just a bit with jet lag from my recent trip. I awoke several hours ago and have been meditating about my recent experiences in Turkey and beyond. In many ways I feel as if I am looking at the world through new eyes... isn't that the greatest gift of travel? To be present for the unexpected joys and pleasures that await you when, in Rumi's words, you "open your hands."
Open your hands,
if you want to be held.
One small group of Americans recently traveled across Turkey and was held in so many ways - our hands opened and we were held.
Mixed with the many beautiful memories that are now filling my heart, I am also thinking about the great movement of hearts and minds that is happening at this very moment in Iran. It appears as if the whole psychic, political and spiritual landscape of that nation has shifted in a profound way. To see millions of people risking death to stand as witnesses for truth and progress is humbling to me especially when I consider how passive we Americans were in the face of the abuses of our democracy and power during the last adminstration. Like many people across the world, I have been following the events in Iran very closely, or a closely as is possible given the harsh censorhsip of the news coming from that country. This morning, as I was meditating, I remembered some wonderful emails I have received from Iranian web surfers over the years. Somehow, they had found their way through the clutter of the internet to these pages... my small garden offering. They extended their hands to me with words of friendship and gratitude and this morning I am praying for them and their nation. If any Iranians do find their way to this page, please know that there are billions of people across the globe who are praying for the success of your movement. Progress is never assured, and I am sure that there will be more martyrs. Despite that, and the fear your governnment is trying to impose on you, know that you can succeed if you open your hands to one another and hold one another. There are millions of you longing for freedom, peace and truth - HOLD ON! The whole world is watching.
Our lives begin to end the day we become silent about things that matter. - Martin Luther King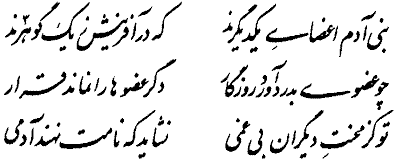 The Children of Adam are limbs of each other
Having been created of one essence.
When the calamity of time afflicts one limb
The other limbs cannot remain at rest.
If thou hast no sympathy for the troubles of others
Thou art unworthy to be called by the name of a man.
- Sa'adi
June 21 - Morning
"The arc of the moral universe is long, but it bends toward justice." I believe that. The international community believes that. And right now, we are bearing witness to the Iranian peoples' belief in that truth, and we will continue to bear witness." - President Obama

Injustice anywhere is a threat to justice everywhere. We are caught in an inescapable network of mutuality, tied in a single garment of destiny. Whatever affects one directly, affects all indirectly. - M.L. King

You gain strength, courage, and confidence by every experience in which you really stop to look fear in the face. You must do the thing which you think you cannot do. - Eleanor Roosevelt
"Anyone can give up, it's the easiest thing in the world to do. But to hold it together when everyone else would understand if you fell apart, that's true strength."
"What cannot be achieved in one lifetime will happen when one lifetime is joined to another." - H. Kushner
June 22 - morning
There are moments in history that inspire and awe... this is one of those times. I can remember watching the People Power revolution in the Phillipines, the end of Apartheid, and the fall of the Communist states of Eastern Europe - as well as the tragedy of Tiananmen Square. The success of any othese transformative movements of human hearts and minds is never guaranteed - progress is never a given. However, like Martin Luther King and our President I do believe that the moral arc of history bends towards justice.
Our President has struck exactly the right tone in dealing with the turmoil in Iran. Bush and Ahmadinejad were each other's foils - each rattling their sabers to spread fear and mask their power grabbing intentions. When I hear McCain and other alleged leaders calling for intervention now it turns my stomach. Iran and America have a long and sad history of abuses (from both nations.) Our intervention would not welcomed - even by those calling for change. However, we can help by keeping the lines of communication open, getting information into the country, and letting the Iranian people know that the world is watching. Ahmadinejad has already been reduced to a shadow of his former strutting self. He can no longer harangue the world with his ignorant rants and be taken seriously in any nation - perhaps even in the ruined streets of Gaza. Other wanna-be tyrants and stage strutters like Chavez must hear the clock ticking as well. Tick tock Mr. Ahmadinejad, tick tock.
May God Bless and strengthen the people of Iran! Thank you for your courage. You are inspiring the world.
************
It is hard to segue from the events in Iran back to the the joy I still feel from my recent journey to Turkey... but here are a few more images:
Detail of the Egyptian Obelisk that stands in what used to be the Roman-Byzantine Hippodrome in Istanbul.
A scene from a rooftop near the Grand Bazzaar looking towards the Golden Horn in Istanbul.
We went up to the rooftop to hear the call to prayer from about 15 or sixteen different mosques at once. An amazing experience.
The Rumeli Hisari - an Ottoman fortress that was built to put a stranglehold on Constantinople just before it fell to the Turks. On the Bosphorus.
A placid scene from Antalya - Austin's Sister City in southern Turkey on the Mediterranean.
In the ancient city of Urfa about fifteen miles from the Syrian border - Whirling Dervishes at a circumcision party - yes you read that right!
It was an amazing - hypnotic experience and the music was sensational.
My Turkish brothers - Yetkin Yildirim and Kaan Turkyilmaz. Thank you for being such wonderful hosts!
June 23 - morning
The news coming out of Iran continues to weigh on my heart - so many deaths, so much bravery. This morning I watched video of government thugs rampaging through the streets of Tehran brutalizing people and smashing property - it was like watching the death throes of a mad beast. Some news organizations are reporting that the government is charging families a fee for the bullets used to kill their loved ones when they attempt to reclaim a body. This is a "religious" state? I don't know what eternity means... but I think I understand eternal shame.
Stay strong!
************
More images from Turkey:
Friends, Urfa
Girl in Harran
Contemplating pigeons
Yetkin - one of our hosts / guides at prayer in Urfa.
June 24 - morning
Roses - Topkapi Palace
Love is the cure,
for your pain will keep giving birth to more pain
until your eyes constantly exhale love
as effortlessly as your body yields its scent.
- Rumi
Roman relics in the garden of the Archeology Museum - Istanbul
St Eirene - the oldest church in Istanbul - 5th Century
Blue Mosque door
June 26 - morning
Urfa - The Pool of Abraham (also known as the Pool of Sacred Fish) - with a family feeding the koi.
More reflections from my trip to Turkey...
Each morning since returning from Turkey I wake up thinking that I have missed the early call to prayer, but then realize that I haven't. The call is heard even though I am many miles from a mosque or minaret. Some might find that image disturbing - how could an American, a person who says that he follows Jesus, relate to the Muslim call to prayer? For me, the call to prayer represents the tugging at my heart that I feel day in and day out - however, that pull is almost tide-like when you step into a place as sacred as the the Halil-ur-Rahman Mosque in Urfa - the city of prophets. The mosque (which is a major pilgrimage site) is associated with one of the ancient stories about Abraham who is thought to have come from the Urfa region. It was at that mosque that the spiritual highlight of my pilgrimage occurred... I was asked to join my hosts in prayer.
Invited to pray
I am guided in the way
of ablutions
and motions -
but nothing prepares my heart
for its own rising
and falling
on the dark sea surface
of infinite love.
In Turkey I felt the bonds of friendship and brotherhood as strongly as I have ever felt them in my life.
It is difficult for Americans to break through our stereotypes of Islam - we are so bombarded with images of violence and oppression (like the flood of ghastly images coming from Iran today.) However, I wish that everyone in this nation could experience just one hour on the streets of a place like Urfa... a place where mothers and grandmothers walk arm in arm with their children, where friends take the time to stop and visit with one another, where families laugh and lounge in the shade of trees and awnings. Negative stereotypes get washed away by such scenes of real family values - I know that mine did.
This morning I woke up and heard the call to prayer echoing in my heart... when Rumi wrote of flowing "down and down into ever widening rings of being" he was reminding us of that echoing call to one another. The water is fine - it is all that we have - trust - jump in.
Urfa - arm in arm.
Old friends - Urfa.
Tea vendor - Urfa.
June 27 - evening
The ruins of the first Islamic University in the world in Harran, outside of Urfa. The university dates from the 8th century, it was destroyed by the Mongols in 1259.
Just a quick announcement - though it may take weeks to finish, I have begun to work on the new Photographic Tour of Turkey page. Check here for updates!
June 29 - morning
Column from the ruins of St. John's basilica in Ephesus - once the second largest church in the world. According to the legend, the basilica was built on the burial site of St. John (the author of the Gospel of John.)
An argument with myself:
"We must take time, take pains, have a plan, form spiritual habits, if we are to keep our souls alive; and now is the time to begin. A man to whom religion is a reality, and who knows what is meant by "the practice of salvation," keeps his balance, because the living center of his life is spiritual. He cannot be upset, not shaken. The same hard knocks come to him as to others, but he reacts to them by the central law of his life. He suffers deeply, but he does not sour. He knows frustration, but he goes right on in his kindness and faith. He sees his own shortcomings but he does not give up, because a power rises up from his spiritual center and urges him to the best." - Joseph Fort Newton.
"The only angels we need invoke are those of our better nature: reason, honesty and love. The only demons we must fear are those that lurk inside every human mind: ignorance, hatred, greed, and faith, which surely is the devil's masterpiece." - Sam Harris
"Religion is the recognition of all our duties as divine commands." - Kant
An Inuit hunter asked the local missionary priest: "If I did not know about God and sin, would I go to hell?" "No," said the priest, "not if you did not know." "Then why," asked the Inuit earnestly, "did you tell me?" - from Annie Dillard
"Religion is to do right. It is to love, it is to serve, it is to think, it is to be humble." - Emerson
"Religion is an insult to human dignity. With or without it, you'd have good people doing good things and evil people doing bad things, but for good people to do bad things, it takes religion." - Steven Weinberg
And so it goes, back and forth...
Religion... who among us has not wished at some point that it would simply go away? We certainly hear many people calling for that from the best seller lists... "When will we ever disenthrall ourselves of the legends and myths?" "When will we wake up to the hypocrisy and lies?"
And yet, people still believe and pray... Why? There are both sophisticated arguments and ignorant rants about faith coming from all quarters: "people need assurance amidst so much anxiety and fear," "simple minds need simple answers," and this from Mark Lilla, author of The Stillborn God, which explores the continuing impulse towards theocracy, "When the urge to connect is strong, passions are high and fantasies are vivid, the trinkets of our modern lives are impotent amulets against political intoxication."
The "trinkets" of our modern lives as "impotent amulets"? Wow. But "it" could happen... In fact, "it" - the collapse of our Western / Enlightenment values system, is not hard to imagine in a world where passion and anger could wipe away any hint of the progress that is the real "faith" of our elites. What if the economic collapse was still occuring? What if unemployment was approaching 20 or 25% instead of 11%? What passions and fantasies (conspiracy theories) would be unleashed in an end-times stoked America?
So, how do we deal with the question of faith in our times and in our lives? How do we fall in love with God without falling into the very real abyss where "good people do bad things"? Is it possible? Do we dare try it?
My recent trip to Turkey, where I experienced so many good people working so hard to be true to their faith has shown me a possible answer. Our hosts are part of a contemporary expression of Islam that embraces the best of the 21st century: education, science, international commerce, interfaith tolerance and dialog - but at the same time they are deeply commited to living faithful lives as Muslims. They struck me as humble, hard working, dedicated, individuals who believe in doing good. Their lives seemed fully integrated in their spirituality - their faith is neither a social adornment or a psychological crutch. Instead, it seemed to operate like an inner compass aligning them to virtues like gratitude, hospitality, and kindness and pointing them to a Good they call Allah. They were inspiring and offer, I hope, an attactive alternative to those seeking commitment without fantasy and bitterness. By standing in their tradition and reaching out I think they are more active change agents than those who are calling for the abolution of religion and "medieval" dogmas.
Some, like the author, Sam Harris, argue that religious "moderates" are actually as big a problem as the fundamentalists, that they provide cover and context for the radicals. To an extent, I understand his point. At the very least we should recognize that when modern "liberal" Christians mouth creeds that fly in the face of reason, science and history - we are not being honest with ourselves or those who stand with us. And, when we do so in the name of belief or faith, we create a context where "going to war for what we believe" might seem credible. So, yes, Sam there is some truth to your claim.
But give up on the notion of God altogether? I would argue that the idea of God is too important and too good to surrender to the radicals and fundamentalists who seem to believe that God is as small and mean as they are. However, just saying that is not enough, people are looking for a God they can experience, they are longing for depth and commitment, and they will turn away from anything that doesn't connect them physically and spiritually to a higher calling. That commitment must be expressed in practice, not just in dogma or high flying theories. People really do want to practice what they feel to be true, they need to practice it. A few days ago I was writing about feeling the call to prayer in my heart - this is what I meant: I want to practice and express my gratitude actually and communally, not just have private musings about it. I want to stand, and bow - shoulder to shoulder with my brothers and sisters- to what is good and what is true, and give voice to the thanks I feel for those who have created the small patch of civility, peace and goodness where I am free to do so. And when I bow I want to speak the truth, to be honest with myself and with those whose shoulders stretch off into the distance. I believe that God is the good we do - not some far off judge. That revelation is on-going and present in our lives. That heaven is here and now, not some future destination, but it can only be realized though our goodness to one another. And finally, I believe that my God needs me and you to do good because, in the words of my friend Michael Benedikt, "a world without good is a world without God."
Goodness may feel ephemeral, fleeting - however, even a single act of kindness, patience or compassion lives on - it is in the accumulation of these often humble gestures that the real sacred ground we tread on is created.
Can we fall in love with a God that is "merely" goodness enacted? I would suggest that we must, and that we must do it as passionately as Rumi suggests when he implored us to "constantly exhale love."
***********
Wow. I really did go off there... I apologize for this overly long morning rant. I should have just said:
Be good - do God. Love. Or in the words of my pastor, David Gilliam ( and John Wesley) "Do no harm, do good, love God."
Prayer beads - from the mosque in the interfaith "Peace Garden" in Antalya.